Group exhibition
Collective School of Vagabundos México DF
Conversation Alejandro Anguiano – Mexico
Exhibition Center Cultural Center of Cali – 2010
The strategic construction from the air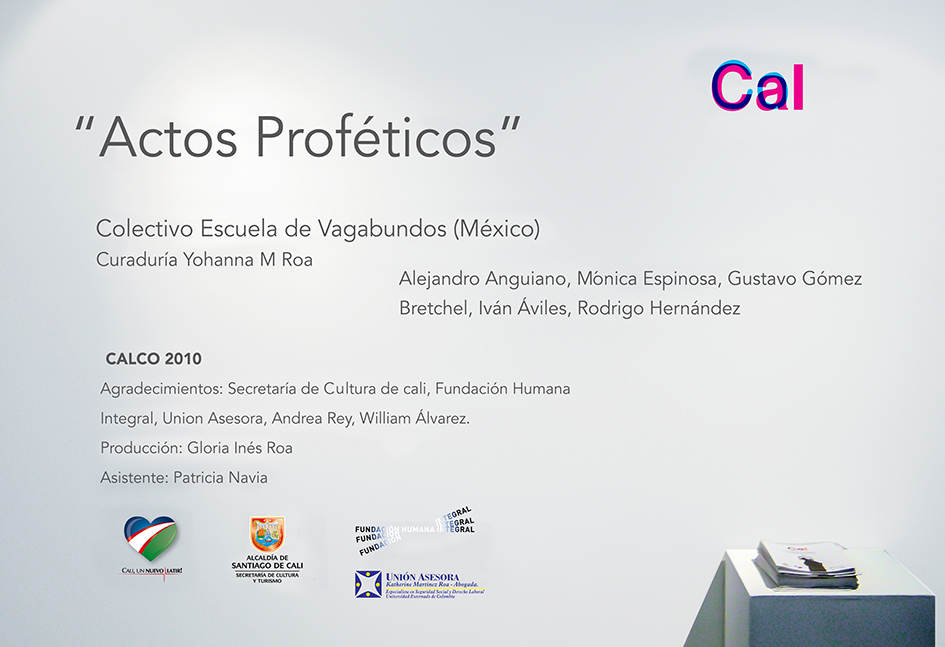 Prophecy can be considered as a human signal that arises from the interaction between space, time, matter and energy. We would also say that prophecy is directly related to entropy; the physical magnitude, the transformation capacity of a system; For example, if we leave 50 marbles scattered on the floor in a closed room, there is the possibility that when we open the room after 10 years, we will find the marbles arranged in the form of a pyramid; Or we could find the 50 marbles arranged in the space of millions of different forms. Why could someone point out how the marbles will be found?
The collective school of vagrants has made a series of facilities on purpose for CALCO 2010, taking as reference the points made by the Mayans, who prophesy the destruction of the world in 2012. Each of the members of the Collective has retaken one of the prophecies, contextualizing it and bringing it from the void, from the distance of time, transforming the written words into a spatial construction. Although it is possible that the emptiness, the distance, the time and the acts of conscience on these three aspects, are one of the main interests of the works; they become possible thanks to the matter and the energy required to think and build each one of them. That is to say, of the high entropy that each of these prophecies entails, artists have made decisions by pointing out their openings in time and space.
There are several ways to read a book, there are several ways to visualize the real, including the possible construction of assigning objects, not for that reason without resonance. It is in the high resonance, in the high entropy where, thanks to excesses and defects, the artists of the collective have made a strategic construction from the air. The prophecy does not usually provide us with certainties, therefore there is no tranquility but if there are resonances, allowing the air to be transformed into movement, and that the void is recognized by excesses.