Yohanna M Roa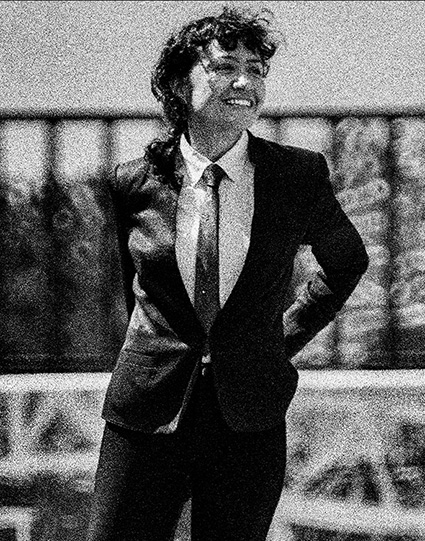 Brief
Yohanna M Roa is a visual artist, art historian, and feminist curator. She is studying in the Women and Gender studies program at the CUNY Graduate Center. Ph.D. in History and Critical Theories of Art program at the Universidad Ibero Americana de México. Master's degree in Visual Arts from the National Autonomous University of Mexico and a Bachelor's degree in Visual Arts from the Departmental Institute of Fine Arts of Colombia, with a meritorious thesis. She has given lectures for the Museum of Contemporary Art of Mexico and the Latin American Public Art Seminar. Her artistic work has been studied, published and commented: by Karen Cordero for the 109 CAA Annual Conference, 2021, in Revaluing Feminine Trajectories and Stitching Alternative Genealogies in the Work of Yohanna Roa, and Natalia e la Rosa: Yohanna M Roa, Textile Woman. Casa del Tiempo Magazine, among others. She has developed exhibitions and educational art and archive projects for various institutions, including WhiteBox NY, The Tertulia Museum of Modern Art in Colombia, Alameda Art Laboratory Mexico City, Banco de la República Colombia, and Autonomous University of Nuevo León México. In 2019 she had an artist residency at the NARS Foundation NYC. In 2018 she developed the project, the trip to Mamacaltepec Momoxco, during an artistic residency at Calpulli Tecalco ONG in Mexico City. She obtained the Young Creators Award from the Ministry of Culture of Colombia. It has a large number of solo and group exhibitions such as Manifest Gallery Cincinnati OH, Artlatinou- Mexico City, Looking At Contemporary Photography - Ruiz & Healy Art Gallery, Valenzuela & Klener Bogotá Colombia Gallery, Plataforma de la Feria de art Zur Präsentation Von Kunstinitiativenin Karlsruhe plus internationale Gäste, Raúl Anguiano Museum in Guadalajara Mexico, Luz y Oficios Gallery - Havana Cuba, ARTBO - Arte Cámara Colombia, Mc Nay Museum in San Antonio Texas USA, Chihuahua Station Gallery among others.
Academics
- PHD History and Critical Theory of Art. Universidad Iberoaméricana de México. 2018
- Master's Program in Women's and Gender Studies – CUNY, at Graduade Center. 2019-
- MA in Visual Arts . UNAM CDMX 2005
- DEGREE: Master in Fine Arts. INDEBA - Colombia 1999 Meritorious Thesis
- ESPECIALIZACIÓN Screenwriting for Cinema and Television. Secretariat of Public Education CDMX 2006 Diploma
- Anthropology of Art. SIESAS – LATIR. CDMX 2017
- Mexico an anthropological issue. Urban Ethnography Universidad Autónoma Metropolitana 2004 CDMX
- General Education Degree. Central Piedmont Community College. Charlotte NC. USA. 2011
- Award
- National Stimulus Scholarship for Creators. Ministry of Culture of Colombia 2013
- CONACYT Scholarship - Mexico
- CONACYT mixed scholarship
Artist residencies
- NARS Foundation NYC. Julio – September 2019
Link - Calpulli Tecalco. CDMX . January - Dic 2018. Atocpan México
Link
PUBLICATIONS
- Revaluing Feminine Trajectories and Stitching Alternative Genealogies in the Work of Yohanna M. Roa. By Karen Cordero R. Conference about muy work, during The CAA 2021. Anual Conference. - Right to Memory. National Archive of Chile. 2021. Article Yohanna M Roa, INES - Matriarchiva. Intersectional Expanded System. - H-ART. N 251- January-June 2020, 351 pp. pp. 242-251 - Magazine of the Department of Art History Universidad de Los Andes -Colombia - Article Karen Cordero Reiman. linklink - 2020 Art – Hag NY- link - Arte Camara / International Art Fair of Bogota - ArbO / Catalog and Guide / Bogotá / 2012 - Six Lines of Flight. Shifting Geographies in contemporary art / San Francisco Museum of Modern Art / USA / 2012 (work with the collective Helena Producciones) - Ojo cautivado / Picnic, Cultural Magazine, volume 25 / Mexico City / January 2009/ Artículo Luz Sepulveda - Heterotopia, International Art Biennial SIART / Catalogue and Guide / La Paz Bolivia / 2007 Conferences, Workshops, Other Artistic Practices.
SOLO EXHITIONS
2022 Textile Woman. Art Latinou. CDMX. 2020 The Past Instructions for its Use. Manifest Gallery, Cincinnati. Selection by jury. 2020 The Past Instructions for its Use - La Bodega Gallery - NYC 2019 Geographies: the journey to Malacachtepec Momoxco. Calpulli Tecalco. Mexico. 2018 The Past Instructions for its Use. Valenzuela Klener Gallery. Bogota ArtBo weekend
... and we could escape the words. University House of the UANL Book. Monterrey
2017 The Earth Is Flat. Cultural Center Mexiquence Bicentenario. Mexico state.
2015 RED The Roldán Plaza Circle. G&B Mexico DF
2014 FAITH OF ERRATS. Proartes Cali
2013 HABITAT. Exhibition hall Pontificia Universidad Javeriana Cali
2012 EDEN. Cultural Center of Cali
2009 FLOWERS OF MY GARDEN. Gallery Chihuahua Mexico Station
2008 GEOGRAPHIES: THE GARDEN Emilia Cohen Gallery Contemporary art. Mexico 2007 THE SKY OF AMERICA IS BEUTIFULL. Charlotte Public Library. USA 2004
Group exhibitions

2021
Reconfigurations: Textile as Textuality. MUMA-Mexico
2020 - Good Trouble – White Box Harlem NY - Re-Center – NARS Foundation. Virtual exhibition. NY - La invención del Paisaje – ArtLatinou – México City. Virtual Exhibition - Art Off-Screen – Neumeraky – NY - Art In Place – CNL Projects – Chicago Ill
2019 - Ven y cuéntame la verdá: de la bandeja paisa... al último suflé. Valenzuela Klener Gallery. Bogotá – Colombia - Behind the Seen. NARS Foundation. New York. 2015 HIDDEN ART Along Göta channel. Östergötland Suecia. Public Art. Meteor Project
2016
Link Editorial work
- Antonio Caro Postcards Book / Book edition and exhibition curatorship / Cali Departmental Library.
- Book No Copyright - Special Edition

Conferences and Workshops

2021 - Lecture: Territory under discussion. Curatorial project developed for the exterior architectural areas and spaces surrounding the La Tertulia Museum - Cali, Colombia. VII International Seminar on Public Art in Latin America. Constelaciones Del Arte Público: contextos, paisajes, saberes
- Master Conference: "Intersectional fabrics" Transdisciplinarity in artistic practices. V International Research Colloquium in Visual Arts.Universidad Autónoma de Tlaxcala
- Conference: "An emerging methodology to create the Josefina Mena Abraham Archive", Seminario de aplicaciones (im)prácticas a las teorías de género. Ibero-American University of Mexico.
-Lecture: QUARANTINE PROJECT – PROYECTO CUARENTENA. Artistic interventions in private and personal spaces. Yohanna M Roa. Congress, Diversity and Crosses in Art. Limits and Borders. Ibero-American University of Mexico.
- Conference: INES - Intersectional Expanded System I Expanded intersectional system. Archival practices, Yohanna M Roa. MUAC-UNAM. Mexico 2019- Lecture. "Transverse Line: City and Body Writings". "Radical Women": Critical Perspectives on a Landmark Exhibition. SEAC (Southeastern College Art Conference) - Tennessee. 2019
- Workshop: Human Rights Archives. Cultural Area of the Bank of the Republic of Colombia. 2019
- Lecture 16 FORUM OF HISTORY AND CRITICISM OF THE MODERN ARCHITECTURE. Autonomous University of Yucatan. Mérida 2018 Mexico
- Workshop: Personal memory configuration. Cultural Area of the Bank of the Republic of Colombia. 2018
- Conference: Seminar: Approaches to contemporary artistic practices. 2/8/18 Autonomous University of Nuevo León, Faculty of Visual Arts / Postgraduate
- Workshop: Personal memory configuration. 6,7, and February 8, 2018. Secretary of Extension and Culture and Management of University Publishing. University House of the UANL Book
- Workshop: Community Archives - Personal Archives October 2017. Cultural Area of the Banco de la República. Cali, Colombia
- Conference: Public space as a possibility and sense of Community. 2 ENCRYM Urban Art Meeting. XI 2016 CDMX
- Are there collections without public? The social relations that make up the collections. / Clinic taught / Alameda Art Laboratory. 2016
- Workshop: Cali Live Document. Cultural Area of the Bank of the Republic. Cali, Colombia. VII –VIII 2016
- Conference: Dialogues on experiences in Educational Intervention. Pedagogical University of Morelos. Mexico 2015.